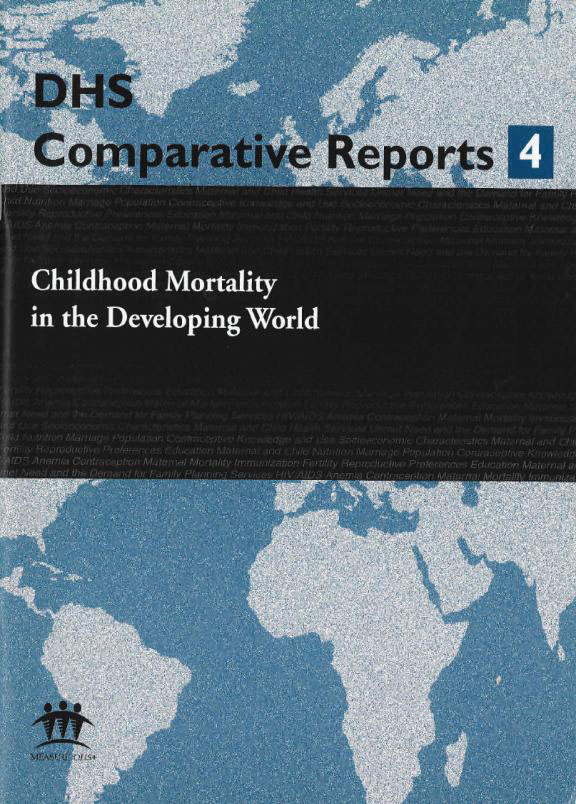 Document Type

Publication Topic(s)

Language

English

Recommended Citation

Mahy, Mary. 2003. Childhood Mortality in the Developing World: A Review of Evidence for the Demographic and Health Surveys. DHS Comparative Reports No. 4. Calverton, Maryland, USA: ORC Macro.

Download Citation

Publication Date

December 2003

Publication ID

CR4
Abstract:
This report is a review of childhood mortality in 56 developing countries. The mortality estimates are based on data from 102 Demographic and Health Surveys carried out between 1990 and 2002. Differentials are compared for key variables that are known to influence childhood mortality. In all regions except sub-Saharan Africa the vast majority of deaths among children under five years occur in the first year of life. In sub-Saharan Africa, large numbers of children also die between the age of one and four—the age range with potentially the most preventable childhood deaths. Estimates of childhood mortality for the five years preceding the survey are presented for the most recent surveys. The results show that under-five mortality ranges from 25 deaths per 1,000 live births in Turkey to 274 per 1,000 in Niger. The results indicate that children of women who have births in quick succession, at young ages, or at high birth orders, have poorer child survival outcomes. Male births and multiple births are also at increased risk of dying because of increased biological risks. In almost all countries, children of women with less education or who live in rural areas have higher levels of mortality than children of other women. Trend data on childhood mortality suggest that under-five mortality has been declining in most of the countries in Asia and Latin America. At the same time, past improvements in child survival in much of sub-Saharan Africa are being reversed.