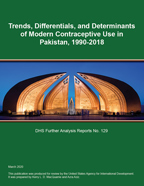 Document Type

Publication Topic(s)

Country(s)

Survey

Language

English

Recommended Citation

MacQuarrie, Kerry L.D., and Azra Aziz. 2020. Trends, Differentials, and Determinants of Modern Contraceptive Use in Pakistan, 1990-2018. DHS Further Analysis Reports No. 129. Rockville, Maryland, USA: ICF.

Download Citation

Publication Date

March 2020

Publication ID

FA129
Abstract:
This study establishes trends in the use of contraception, describes regional, residence, education, and wealth-based differentials in contraceptive use over time, and identifies factors associated with contraceptive use. We use data on currently married women from four demographic and health surveys conducted in Pakistan between 1990-91 and 2017-18. We contrast patterns in modern contraception with traditional contraception, and examine specific modern contraceptive methods. We find that gains in contraceptive use largely accrued before 2006-07 and stalled since 2012-13, with the modern method mix largely unchanged since 1990-91. Condoms (9%) and female sterilization (8%) dominate, with other modern methods lagging in prevalence (<3%). This study also finds prominent differentials in contraceptive use. Modern contraceptive use is higher among urban women, more educated women, and women from wealthier households. Regional differentials have become more pronounced over time and are particularly sizable for female sterilization. Wealth and educational differentials have largely narrowed over time. Region, education, and wealth remain important correlates of modern contraceptive use, even after controlling for other factors, as does the number of living children and, for female sterilization and IUDs only, women's working status. The husband's characteristics do not factor strongly in women's modern contraceptive use. Contraceptive decision-making is more pertinent to women's modern contraceptive use than household decision-making, and is inhibited when husbands are the primary decision maker of contraceptive decisions. In contrast, joint decision-making facilitates overall modern contraceptive use and the use of condoms in particular. Contraceptive use is reduced when the decision is made by someone other than the woman or her husband. Furthermore, modern contraceptive use (particularly condoms and female sterilization) is reduced when women live in an extended household. Our study finds that women's use of contraception increases with increasing intensity of desire to delay or avoid a birth. Nonetheless, more than half of women who want no more children and nearly three-quarters of women who want a delay of at least 2 years are not using any modern method of contraception. A sizable proportion of women who want no more children rely on short-acting, reversible methods. This study finds support for expanding services population-wide, in combination with targeting disadvantaged population subgroups, expanding the range of available methods, and combining service improvements with promoting women's empowerment, gender equity, and social behavior change initiatives targeted to men and other family members.