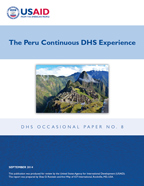 Document Type

Country(s)

Language

English

Recommended Citation

Rutstein, Shea O., and Ann Way. 2014. The Peru Continuous DHS Experience. DHS Occasional Papers No. 8. Rockville, Maryland, USA: ICF International.

Download Citation

Publication Date

September 2014

Publication ID

OP8
Abstract:
Peru was the first country to undertake a continuous survey (CS) within The Demographic and Health Survey (DHS) Program. The continuous DHS replaces a standard DHS conducted at the typical five-year interval with a continuous survey operation in which DHS data is collected and reported on annually by a permanently maintained DHS office and field staff. This paper considers the rationale for continuous DHS surveys, reviews key elements in the initial Peru CS survey design, and describes how the Peru CS evolved over time, particularly in response to demands for subnational data. In reviewing the Peru experience, the paper also identifies some strengths and weaknesses of the CS model and highlights factors that were crucial in enabling Peru to successfully implement a continuous DHS for more than a decade.