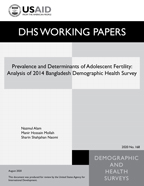 Document Type

Publication Topic(s)

Country(s)

Survey

Language

English

Recommended Citation

Alam, Nazmul, Manir Hossain Mollah, and Sharin Shahjahan Naomi. 2020. Prevalence and Determinants of Adolescent Fertility: Analysis of 2014 Bangladesh Demographic Health Survey. DHS Working Paper No. 168. Rockville, Maryland, USA: ICF.

Download Citation

Publication Date

August 2020

Publication ID

WP168
There is no printed copy available to order.
Abstract:
Bangladesh has one of the highest rates of adolescent fertility in the world, which contributes to negative maternal health outcomes and population growth. This study was conducted to assess the prevalence and determinants of adolescent fertility in Bangladesh using data from the 2014 Bangladesh Demographic and Health Survey. For this study, 2,023 ever-married women age 15-19 were included in the analysis. This study was guided by a conceptual framework of the relationship of selected independent and intermediate variables to the dependent variable, which is adolescent fertility. Overall, the adolescent fertility rate was 31%. Significantly higher odds of adolescent fertility were found among women in the Sylhet Division (adjusted odds ratio (AOR) = 3.0; 95% confidence interval (CI): 1.6–6.1) and the Chittagong Division (AOR = 1.8; 95% CI: 1.8–2.7) compared to the Barisal Region. Compared to women in the lowest wealth quintile, women in all other quintiles had lower odds of adolescent fertility, with the lowest odds found among women in the richest quintile (AOR = 0.3; 95% CI: 0.2–0.6). Women who married at age 14-17 had 60% lower odds of adolescent fertility compared to the women who married at age 10-13. A substantial proportion of married adolescents were either pregnant or had at least one child before their twentieth birthday. There are several modifiable factors such as marriage at early age, geographic inequality, and income inequalities, which can have significant influence on adolescent fertility in Bangladesh. Policies and interventions to address these factors can reduce adolescent fertility and help to achieve improved health, psychosocial wellbeing, and greater women's empowerment in Bangladesh.