Journal Articles
Search our database of 1000's of peer-reviewed journal articles that feature DHS data.
The DHS Fellows Program
Researchers in DHS countries work with DHS analysts to design, analyze, and write a publishable paper.
DHS Analysis Blogs
Read  more about our recent research, innovative methods, and success stories.
Research and Further Analysis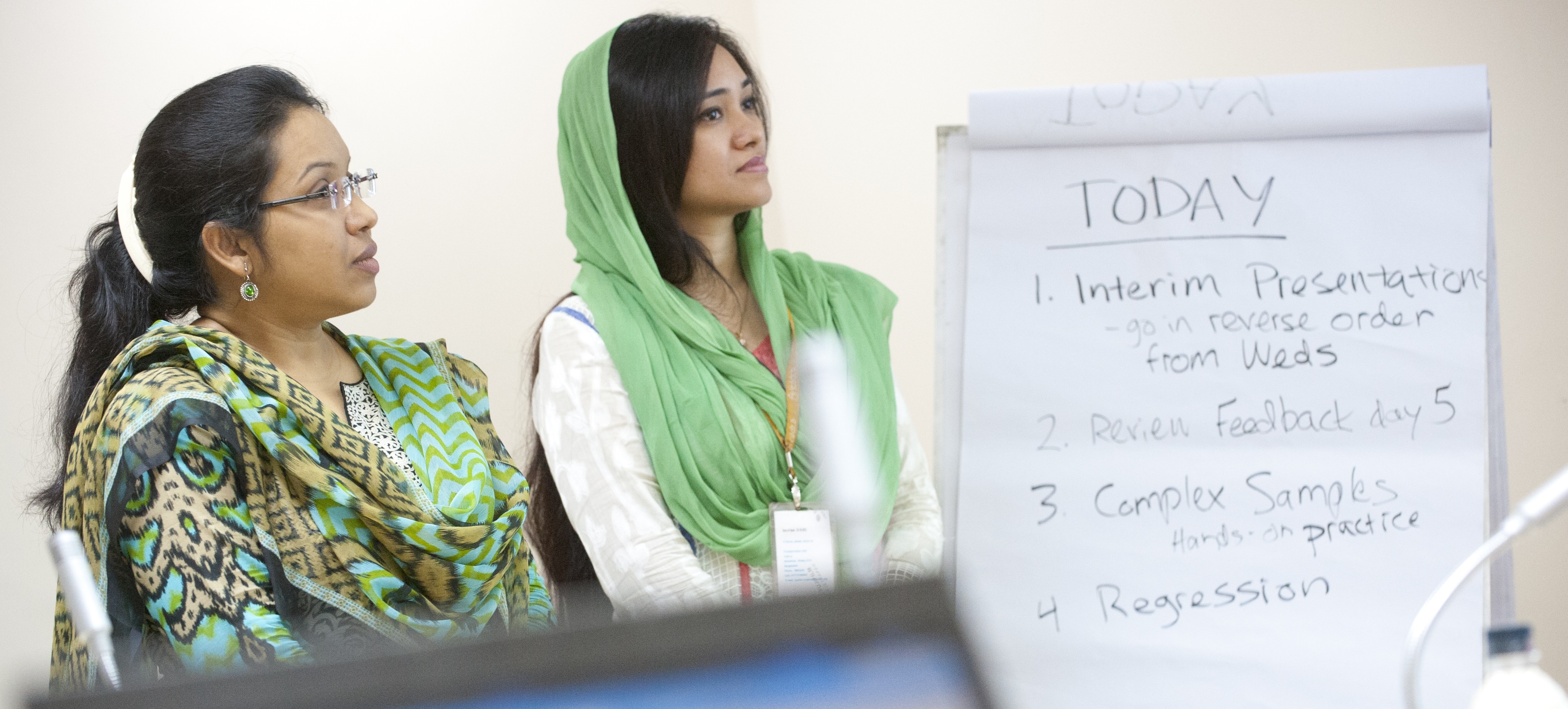 The DHS Program's in-house Research and Analysis team conducts rigorous, timely, and innovative mixed-methods research on topics related to global public health, demography, and social epidemiology. Our team also trains, mentors, and closely collaborates with fellow researchers and stakeholders who are driven to utilize DHS Program surveys and other survey data to inform programs and policies in various countries and contexts.
Visit the publications search for a full list of publications.  Also, go to the  journal articles search for a full list of published journal artilcles that feature The DHS Program data.
DHS Research Reports
Mar 2020
Predicting HIV/AIDS at Subnational Levels using DHS Covariates related to HIV
Accelerating the scale-up of HIV prevention and treatment approaches will limit the epidemic to more manageable levels and enable countries to move toward the elimination phase.
Topics: Geographic Information
Sep 2019
Interpolation of DHS Survey Data at Subnational Administrative Level 2
Over the last several years and within the framework of the Sustainable Development Goals, there has been a need to improve the measurement and understanding of local geographic patterns to support more decentralized decision-making and more efficient program implementation.
Topics: Geographic Information
Sep 2019
Strategies to Assess the Quality of DHS Data
The Demographic and Health Surveys (DHS) Program strives to maintain the highest standards of data collection, processing, and analysis.
Topics: Survey Methodology, Data Quality, Analysis
Sep 2019
Women's Contraceptive Profiles throughout the Life Course in Burundi and Nepal
This study uses sequence and cluster analysis to identify profiles that characterize women's dynamic contraceptive use and pregnancy experiences by using 5-year, retrospective, longitudinal data from the Demographic and Health Surveys (DHS) contraceptive calendars.
Topics: Family Planning, Fertility and Fertility Preferences, Survey Methodology, Data Quality, Analysis
Aug 2019
Quality of Diagnostic Services for Non-Severe Suspected Malaria Cases: An Analysis of National Health Facility Surveys from Malawi and Tanzania
Global malaria diagnostic and treatment guidelines recommend that every suspected malaria case be tested, every confirmed case be treated, and the disease tracked by surveillance systems.
Topics: Health facilities/SPA surveys, Malaria
Aug 2019
Regional Disparities in Fertility Preferences and Demand for Family Planning Satisfied by Modern Methods across Levels of Poverty
Research has highlighted disparities in family planning outcomes by wealth and by region separately.
Topics: Family Planning, Fertility and Fertility Preferences
Jul 2019
Trends, Inequalities, and Contextual Determinants of Child Marriage in Asia
Child marriage—defined as marriage before age 18—is considered to be a violation of human rights and is associated with numerous adverse health, social, and economic outcomes.
Topics: Gender, Geographic Information, Youth
Nov 2018
Enhancing Nutrition Data Quality in the DHS Program
The DHS Program is a leading source of nutrition data globally.
Topics: Nutrition
Nov 2018
Place of Delivery: Perceptions, Tensions, and Experiences
The 2014 Kenya Demographic and Health Survey (2014 KDHS) was the first national survey in Kenya to produce county-level indicator estimates.
Topics: Maternal Health
Sep 2018
Thermal Care and Umbilical Cord Care Practices and Their Association with Newborn Mortality
Although child mortality has decreased considerably in the last several decades, newborn mortality has declined less substantially and its share of all under-5 mortality consequently has grown.
Topics: Child Health and Development, Infant and Child Mortality
---