What is family planning?
Family planning refers to use of modern contraceptives or natural techniques to limit or space pregnancies. Modern methods of contraception include the pill, female and male sterilization, IUD, injectables, implants, male and female condom, diaphragm, and emergency contraception. Traditional methods include periodic abstinence, withdrawal and folk methods.
DHS data and family planning
The DHS collects data on knowledge and use of contraceptive methods, both modern and traditional. Women are also asked where they obtain their contraceptive method, and whether or not they were provided information during their contraceptive counseling that allowed them to make an informed choice. In order to assess missed opportunities, non-users of contraception are often asked if they have discussed family planning with health care providers. Men are also asked about their opinions towards family planning. In some surveys, information is also collected on exposure to family planning campaigns and coverage of social marketing programs.

Extensive data on family planning are available on STATcompiler. Compare among countries and analyze trends over time.
Which DHS indicators are related to family planning?
Knowledge of contraceptive methods (women and men)
Ever use of contraception(women and men)
Current use of contraception (women and men)
Current use of contraception by background characteristics
Number of children at first use
Knowledge of fertile period (women and men)
Contraceptive effect of breastfeeding
Timing of sterilization
Source of supply for modern contraceptive methods
Contraceptive discontinuation rates
Future use of contraception
Reason for not using contraception
Preferred method of contraception for future use
Heard family planning on radio and television or in a newspaper or magazine
Acceptability of media messages on family planning
Contact of non-users with family planning providers
Planning is being used
Was family planning use mainly the woman's/the husband/partner's or a joint decision
Informed choice of family planning methods
Unmet need for family planning

Which SPA data are related to family planning?
The Service Provision Assessment (SPA) survey collects data on family planning from the health facility perspective. The SPA monitors availability of family planning methods, equipment, client educational materials, availability of trained providers and the setting needed to adequately distribute and counsel women about family planning.
Photo credit: © 2005 CCP, Courtesy of Photoshare. A couple who survived the tsunami in Aceh, Indonesia are soon to have a child. Antenatal care was provided for pregnant women at a camp for internally displaced persons in Long Raya, Aceh Besar, Indonesia.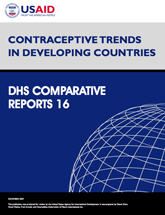 Extensive data on family planning are available on STATcompiler; compare among countries and analyze trends over time.