Matching Variables

When merging files it is generally easier to use the original variables rather than the ID variables. For example, it is not possible to merge the household and women's files using HHID and CASEID because CASEID has three extra characters identifying the women's line number. The files can be more easily merged using variables HV001 with V001 and HV002 with V002.

The following reference table shows the variables required to match different files. In the rows, the base files are listed. In the columns, the secondary files along with the variables to be used as keys or matching variables are listed. In the cells intersecting the rows and columns, variables from the base files used to match the secondary file are listed.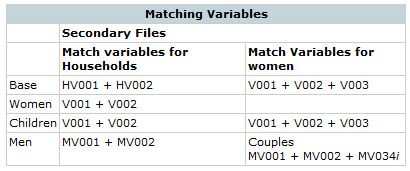 This table shows that household variables can be appended to women, men and children. Women variables can be appended to their children. They also can be appended to men, to create couples. Notice that there is no relationship between children and men because children come from the birth history, which is asked to women.

With software that requires the variables that are used for merging to have the same name in both files it will be necessary to either rename or to create copies of the matching variables in one file to match the names in the other file being used.  For example, to match the household data to the women's data, first rename HV001 to V001 and HV002 to V002, or create a copy of HV001 in V001 and a copy of HV002 in V002 in the household data before merging.